General
Ways To Make Your Outdoor Space More Functional And Serene This Year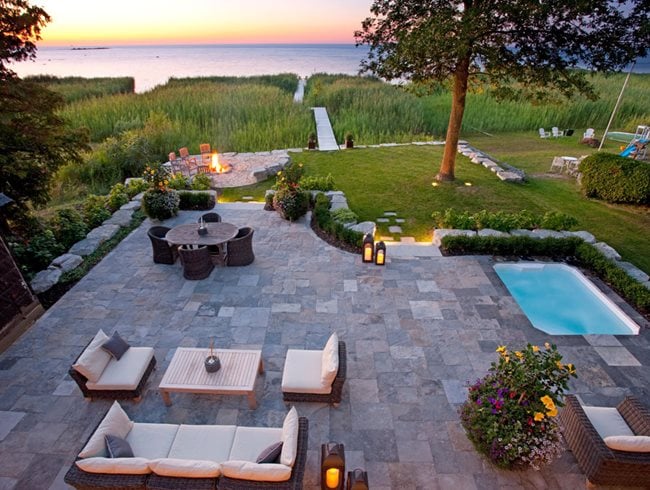 Whether you are a homeowner looking to revitalize your outdoor space or just want to add more utility so that you and your family can enjoy your outdoor living space more, we have gathered a list of ideas and tips for you.
These elements may be tailored to meet the needs of all sorts of homes, regardless of budget or whether you want to entertain guests or create a more family-friendly environment.
Grilling Area/Outdoor Kitchen
An outdoor cooking space does not have to be used simply when the weather is hot. BBQs, pizza ovens, and griddles may be used all year in a garden cooking environment. From summer to winter, a covered kitchen area may be utilized for parties and gatherings for you and your family to enjoy. This will guarantee that you are making use of your garden and may even inspire a pleasant family activity such as preparing meals together.
The Hot Tub
Adding a hot tub to your yard is a terrific way to create a peaceful environment. A hot tub can be used at any time of year and is a great focal point for your outdoor space. It is pleasant and will help you unwind all year.
A hot tub is a useful addition to your home that is appropriate for people of all ages, whether you want to use it with your children for family time, as a couple, or even for parties with friends. Many customers cover their hot tubs to utilize them in the rain or snow.
Additionally, if your space is covered, you may add a minibar or outdoor television to create an entertainment area ideal for parties. It is crucial to remember that you should exercise caution while choosing the flooring for your hot tub; for example, wood decking can become highly slippery around water, creating a deadly hazard.
Furthermore, it is more prone to decay than other materials, making it an unsuitable material for hot tub installation. Composite flooring is a better choice since it is not only harder and more lasting, but it is also more resistant to moisture and will not warp or rot when exposed to hot tub water.
The Fire Pit
Another common choice for many homeowners who want to improve their garden and create a more tranquil place is to install a campfire. This addition may wonderfully update your garden and light up your area, allowing you to rest in your tranquil outdoor environment day or night.
A fire pit adds a contemporary touch to any room and may revitalize the environment, making it ideal for parties and gatherings with friends or family. A firepit may be utilized all year and will increase the likelihood that you will utilize the space you have invested in.
Children's Play Area
Are you tired of having children's toys all over the place? Creating a children's play area outdoors is one way to add utility to your external space and even generate additional room within your house. In this manner, you can securely watch your children play while relaxing in the sun.
Having a play area for your children in your yard saves space in your house from cluttering toys and playrooms, making it a perfect alternative for homeowners with smaller properties.
There are many different types of children's play spaces available in stores and online, with costs to suit all parents. You may even go for wooden climbing frames that mix in with the surroundings or decks.
Reuse Old Materials
If you are a homeowner on a budget or simply seeking to save money while improving your garden, making garden features out of composite decking or wood material is a great method to do it.
You may have previously completed a decking job and have excess material that would otherwise go to the trash. Alternatively, you may get cheap composite or wood materials from suppliers if they have damaged lengths that can be chopped down, lowering the cost of your material.
These planks may be used not just for decking in your garden, but also to build elements such as benches, bird cages, or outdoor dog beds, adding users to the space. Furthermore, not only will this choice save you money, but it will also benefit the environment by recycling products that might otherwise wind up in landfills or burned, increasing our carbon footprint.
Plant Flowers/Construct A Vegetable Garden
If you are a homeowner trying to revitalize your outside area, planting additional flowers and plants is an excellent method to accomplish so. This is a good alternative if you have a modern garden and want to give it a more natural feel while also adding color.
This is a good alternative that may be constructed with old recycled décor materials to save money. You may also make flower beds or boxes that increase drainage and ventilation for growing plants and veggies as a do-it-yourself project using composite or wood.